Sporadic Blog
I have been a bit more sporadic about blogging lately, a malady which I intend to improve. I doubt that I can catch up with everything that has happened since my last blog, so I will not try. One of the things, though, that happened last weekend was the visit of folks from Brentwood Hills Church of Christ. It was delightful to see Frank and Linda Shelton again. It was equally delightful to meet Jesse and Andrea Clayton. They spent much time with us, Orange Grove, and Picayune talking about mission needs. We truly appreciate their interest. Before I forget, the podcast / audio of my Sunday sermon can be found
HERE
. The title is, "
Qualities of A Spirit-Filled Church
". Currently we have a grand total of three workers present this week. Keith Verdan came this past Spring with his group from Titan Christian Fellowship in Wisconnsin. He is down for a week working until school starts back up. Also we are glad to have Janelle and Emily here from State Center, Iowa. They are the ones who organized Tony the Trucker's trip down to the Coast several months ago. They are all three working hard delivering sheetrock and making visits in homes. On a personal note, Maggy's birthday was yesterday. Sunday afternoon we took off for an overnight get-a-way, saw a few movies and relaxed. I had an eye appointment and finally got new glasses after breaking mine in our first visit to Nashville. Monday afternoon there was a thunderboomer, and I sat on the porch of Dough Joe's and watched the rain, read Discipleship Journal, and had a peaceful time to think for just a little while. Last night we had an important board meeting at Gulf Coast Bible Camp. I am President of the Board, and we had some big items to cover. Tuesdays are mostly visitation days, and I visited some friends and members with Jim Ingram, one of our elders. And here I am at the end of the day with much left to do. I would like to direct your attention to a few items: You simply must read Margie Keiper's chronicles over the next few weeks as she details the destruction of Katrina across the coast. She will be featuring the places no one has talked about. She started about three days ago in Grand Isle, LA, so you're not too far behind to enjoy the entire series. It is already a fascinating read with awesome pictures. Her blog is located
HERE
. Also Larry James only needs $85,000 more to reach his goal to fund Central Dallas Ministries. I'm just going to be bold enough to say that if you read Larry James' incredible blog and your conscience isn't feeling some pain, you are either already very benevolent or awfully cold. Read him
HERE
and bookmark it!
Wade Tannehill has tagged me
, so in a post coming soon, I'll participate in the new round of blog tag. Who will I tag? That remains to be seen! Below: Frank & Linda Shelton, Jesse and Andrea Clayton at Central Sunday Morning.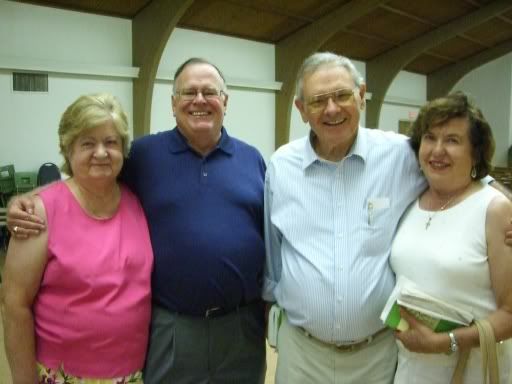 A rainy day on Beach Boulevard in Pascagoula.